v 2.31 – February 2020
Concept first published 1st Jan 2013
Older version also available en Français (v2.1)
Hex is a natural and organic offence in ultimate frisbee. If you want to win and have fun, follow these three guidelines:
1. Keep the disc moving (movement)
2. Maintain team shape (spacing)
3. Control your balance (technique)
Understanding and implementing these principles creates a fast-moving, flow-based offence which doesn't give the defence a chance to set, maximises options, constantly changes the angles of attack, generates plenty of scoring opportunities, and is a lot of fun to play – for beginners and experienced players alike!
1. Keep the disc moving
Sustained flow is very valuable and hard to defend against, so players should take any open pass available to them without hesitation. The decision tree in the video below is a guideline for how players should move, and where they should look, in order to have the best shot at keeping the disc moving.
full image of the Hex Movement Decision Tree
2. Maintain team shape
Players should maintain good spacing between each other and the disc throughout their possession, as this will maximise their options. This is an ongoing task – shape doesn't need to be perfect, and it will deform whenever the disc or players move – but paying attention to spacing goes a long way. The overall shape is a hexagon made of equilateral triangles, with the thrower on one of the corners, this forms when every player has good spacing. Players should gravitate to shape positions when flow has stopped – something Outbreak could do a little better in this video illustrating hex shape: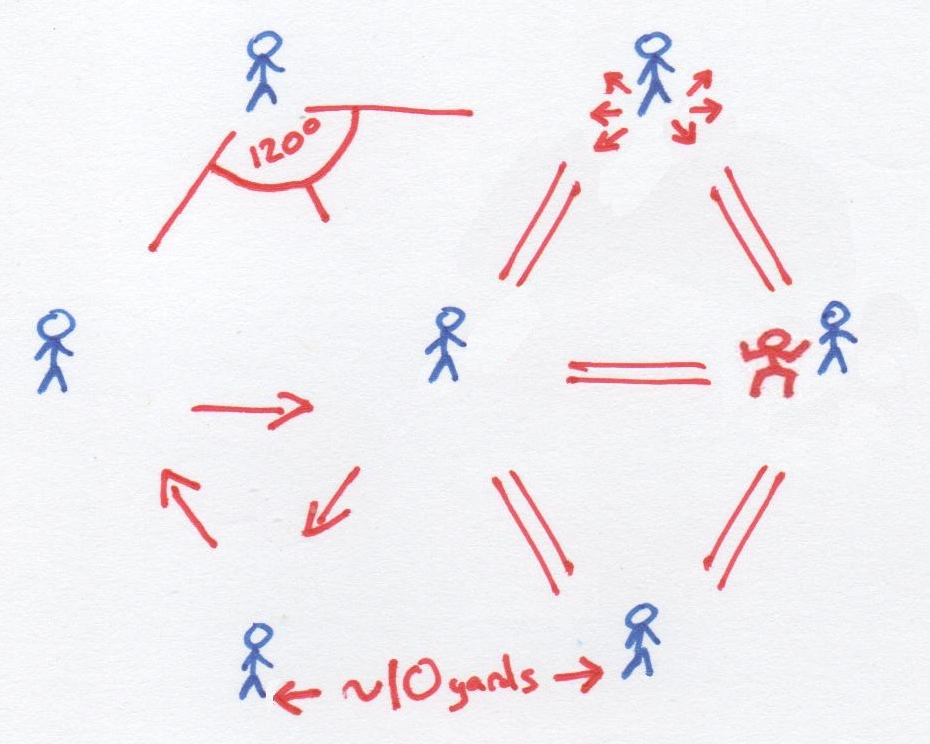 2.5. Flow – the product of good movement, spacing, and decision making
3. Control your balance
In terms of individual technique, being in control of your balance whilst catching and throwing means you are in control of your acceleration and deceleration as well as the direction of the disc – a powerful combination! When used to counter defensive imbalance and/or exploit space, a thrower (who is part of an offence with good shape) can generate flow and penetrate through defensive setups.
There are two basic types of throw: the dribble-throw and the pivot-throw. At the moment of release, a thrower's acceleration is near zero for a pivot-throw, and maximised for a dribble-throw. Pivot-throws are useful for getting the disc around a defender, but leave a defender between the previous thrower and the new thrower. Dribble-throws are useful for moving (with the disc) past or away from a defender, but are more difficult to execute.
More Hex Technique videos coming soon!
---
Combine and train these three elements – movement, shape, and technique – with freedom, creativity, and spirit – to win whilst enjoying the sport of ultimate frisbee to its fullest!
Extra notes for players who are familiar with / trained in stack offences:
De-prioritise gaining yards – hex values flow over yardage, so take the open pass regardless of yardage, field position, or stall count. Look to initiate and continue flow, instead of looking downfield to potentially gain yards
Spread out – clumping together in a stack maximises space at the expense of options, which does not work well with a flow-based offence. Make equilateral triangles locally, and resist the temptation to flood (or 'clear') downfield when the disc is on the sideline (50% of the players should be behind the disc to keep balanced shape)
Follow your throw – when throwing, instead of viewing nearby space as just areas for your receivers to cut to, view them as areas which you can attack immediately after releasing the disc, receive passes back to, and then use the momentum of your defender against them
Face infield – the centre of the space – soon after catching the disc, instead of looking downfield
Further reading:
Video examples:
Hex Coaching:
If you want your team to have a crash course on Hex in preparation for the season ahead, felixultimate.com can run a Hex Clinic in your city – this will get everyone on the same page and able to play hex within one weekend. If your team is already playing hex and wants to improve, you can book a live online video analysis session with Felix. At the time of writing, 7 Hex Clinics and 14 live online video analysis sessions have taken place. To arrange a live online analysis session or a hex clinic in your city, contact felix at felixultimate.com
https://felixultimate.com/wp-content/uploads/2019/12/felixultimate.com-3500x1140-banner-2-1024x334.png
0
0
Felix Shardlow
https://felixultimate.com/wp-content/uploads/2019/12/felixultimate.com-3500x1140-banner-2-1024x334.png
Felix Shardlow
2018-10-14 13:45:32
2020-03-21 22:39:20
Hexagon Offence v2.31