This weekend I won a bronze medal at the Euro Masters Club Championships in Frankfurt, playing hex with a mostly Belgian team – Moonwalkers!
Tof, who captains the Belgian team Mooncatchers and with whom I played Shocker @ Paganello a few years ago, got in touch to invite me to play with what I assumed was a Belgium-based / Mooncatchers masters club team. Turned out the only thing we all had in common was that we knew Tof! We had three players from Brighton (Roach, Edgars and myself), three Mooncatchers, six from other teams in Belgium, and three players from France – so most of the team were familiar with seeing each other on the field as opponents and competitors rather than team mates.
On the first day Tof told the team that I was strategist along with Olivier (Mooncatcher founder who has been playing since the 80s). For our first warmup we played Keepdisc – Ultimate without endzones – as this got us passing the disc around in very Ultimate-like situations, getting to know how each other cut / pivot / throw / fake in fluid situations, so we learn a lot more about each other than if it was a rigid drill. We played Keepdisc to warm up before every game for the rest of the tournament.
First game we played against D.O.M from Germany, and ran Mooncatchers-style D – work as pairs downfield switching and sandwiching, whilst handler marks play tight one-to-one defence. This progressed into a heavy focus on stopping the under passes as we realised D.O.M were very reluctant to throw deep – strange for a masters team! We took the game 15-11, a great victory as D.O.M went on to beat one of the finalists later in the group stage.
Before the next match I explained some of the principles of Flex defence – communicate, switch/sandwich where appropriate, and maintain coverage of every offence player. We went into the next game with a more formulated approach to switching and sandwiching, so it was less chaotic than the defence of the first game, and worked well as we beat Wolpertinger (DE) 15-11. Last game of the day was against 7 Schwaben, I was unable to play due to heel pain so contributed from the sideline with strategic manipulations – forcing middle worked well, we switched it up to a zone until they called timeout, at which point we switched back to forcing middle so that they never got to adapt – a 15-8 win.
The next day was tough – we played Deduska (RU) and Wizards (SUI), both were very strong on both offence and defence, and although we got turnovers we weren't able to convert enough of them and made too many mistakes on offence, so lost both games and lost out on a place in the final due to a three-way tie.
On the final day, we first played Raging Bananas as our last group game, before meeting Wolpertinger again in the Bronze 3v4 match.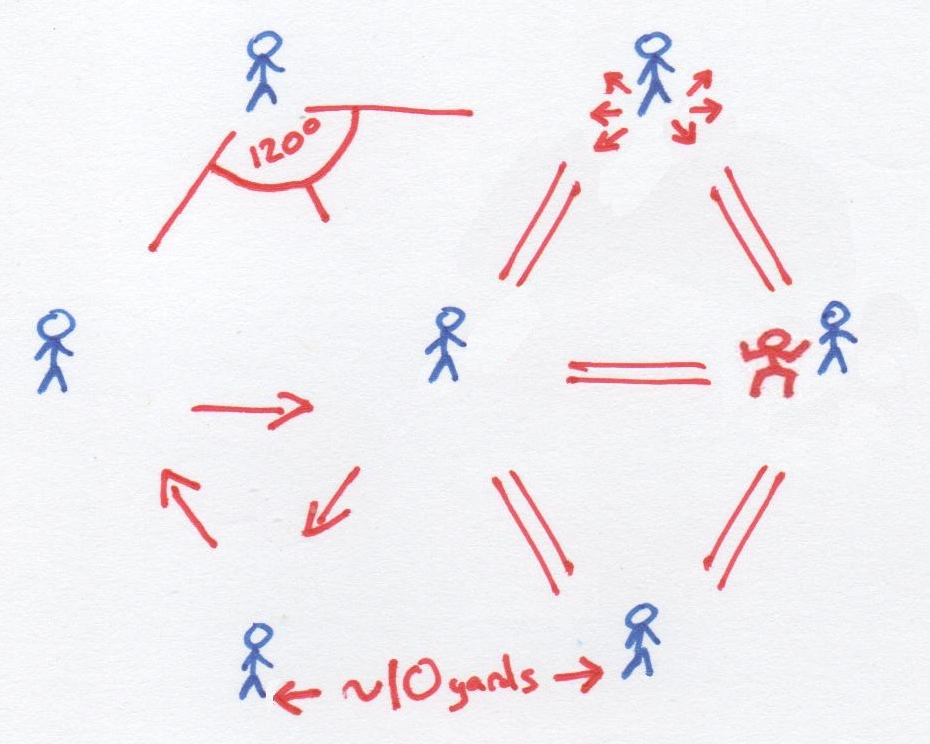 Before the Raging Bananas game I took some time with the team to explain Hex offence, as we had only been playing horizontal and some vertical up until then. The players were quite comfortable playing a fairly organic style (this is normal in Belgium, to fall into organic style after an initial setup), so I emphasised that there was total freedom in Hex outside the basic principles: Take the open pass, create/use space as you see it developing, and maintain the shape. Other than that, just do what comes naturally. The first two principles were easy to explain / natural to perform, so we quickly went over what the hex shape looks like on the field, emphasised that you shouldn't surround the disc, played some Keepdisc and then got straight into the game.
Hex offence against Raging Bananas looked amazing – the scores looked to be easy, there was always an open pass free, and the flow looked unstoppable. Of course it is impossible to say whether this would have been the same if we played another offence, but at the very least it was a great way for the team to learn how to setup and the flow from the Hex structure, and gain confidence playing it. We took the match 15-6.
Then onto our final game, against Wolpertinger, for the bronze medals. For plenty of our team this was the highest level game they had ever played, so before the match I told everybody that we did not need them to do something extra special,
 they just had to give their 100%… to resist the urge to try to give 110% and be extra amazing, but just to be the same players as they have been all weekend, putting in the maximum effort and doing what they know will work. For example, rather than trying for a pass that will only work if it is a great throw, just make the pass which will work for a normal throw, as this is all the team needs to do to win each point. It's interesting to note that, in my experience, players will often change how they are playing in a meaningful final match – either by saying more stuff to the team in between points / in huddles, or playing in a different style.
The bronze match was an amazing match by all accounts. We played Hex offence the entire way through, and it was 5-5 before the first turnover of the game. We got the first break, they broke back a few points later, and the points became longer – Wolpertinger tried a few times to play zone defence against the hex but we were very patient and used lots of accurate hammers to swing and score. We took the third break of the game in the second half to go up 13-11 in a game to 15, they stayed with us so we were on offence 14-13 up, 
they come down with tight one-to-one defence but we flowed downfield using the hex shape until we were near to the end zone. Olivier had the disc and couldn't throw back to me or up the line, so I found myself near the end zone not really able to help when the stall was on 8… Olivier sees Tof coming under on the break side under a lot of pressure, makes the throw, Tof goes up high and fast with a bidding defender next to him, takes the catch down… I make three hard steps to the flick side and then plant and turn to look over my left shoulder, Tof sees me and puts up the hammer, I have time to get body position and go up with two hands, and secure the catch! I hold the disc up high and hug team mates as tears come to my eyes… what a game, what a tournament, what a team and what a medal!
Strategically I learnt that it is quite easy to implement Hex Offence with experienced players even if there is a variety of ability and they have not played much with each other before – helped by the tendency to be comfortable playing a more organic style in Belgium. It is harder to implement Flex defence for a couple of reasons:- it tends to break down if one player begins to poach – which is very tempting – and the positioning and movement in Flex is very unlike one-to-one or zone defences, so players are not used to it and have to learn it afresh. The positioning and movement in Hex offence is very similar to 'organic' or 'fluid' offence – which is something that happens in practically every point of Ultimate when the stack formations break down after a few passes, therefore players are used to it and so Hex doesn't ask them to do very much different to how they normally play – just to 'maintain the shape' (which entails knowing what the shape looks like). Hex is essentially a set of guidelines which facilitate and support organic flowing offence, whereas Flex is an alternative approach to defence which introduces a number of new concepts and asks far more of players.
Had a great weekend with the Moonwalkers, winning a European medal (and the first medal earned by Hex offence that I know of – though Cape Town Uni may have won SA Nationals with it last year), meeting lots of fun players from Belgium & France, and I hope plans come together for us playing more in the future!
Felix's updated medal table (as a player):
Gold
Silver
Bronze
UK Nats 2011 – Clapham (Open)
UK Nats 2010 – Brighton (Mixed)
EUCC 2009 – Brighton (Mixed)
UK Indoor Nats 2005 – Brighton (Open)
EUC 2011 – GB (Open)
EUCC 2011 – Clapham (Open)
UK Nats 2009 (+MVP) – Brighton (Mixed)
EUMCC 2017 – Moonwalkers
Paganello 2014 – Shocker
UK Nats 2009, 2013, 2015 – Brighton (Open)
UK Nats 2006, 2008 – Brighton (Mixed)
https://felixultimate.com/wp-content/uploads/2019/12/felixultimate.com-3500x1140-banner-2-1024x334.png 0 0 Felix Shardlow https://felixultimate.com/wp-content/uploads/2019/12/felixultimate.com-3500x1140-banner-2-1024x334.png Felix Shardlow2017-08-16 13:40:142017-11-03 10:37:26EUMCC 2017 with Moonwalkers